Some of the areas I cover include:
Anxiety

Confidence

Stress

Healing

Sports Performance

Life Coaching

Giving Up Smoking

Diet Control

Personal Development

Phobias
For a free initial consultation, please call me on 0789 9928919.

You can listen here for a free trial of my relaxation meditation:


Please click on the stars below to read reviews and feedback:
I am a registered member of the National Council for Hypnotherapy: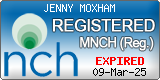 Cognitive Hypnotherapy - The Research
Using the same outcome measures used by IAPT, (which are used to measure existing therapies offered within the NHS) 118 case studies were undertaken to measure the effectiveness of Cognitive Hypnotherapy for the treatment of depression and anxiety: 71% of clients considered themselves recovered after just 4 sessions. This compared to an average of 42% recovery for other approaches (such as CBT) using the same measures. The future is even more exciting with another 500 closed cases forming the basis of an even bigger published study. This means that we will soon be knocking on the doors of NICE to make Quest Cognitive Hypnotherapy a mainstream offering to the public.
"Once you realise you always have choice, the world doesn't have to ever be the same as it was. It just takes the courage to take action,"
Trevor Silvester.